How To Do Winged Eyeliner For Your Eyes Fast?
Through longtime research and experimentation, Aupres Lashes updated  the bottled glue into the shape and packaging of an Eyelash Glue Pen. When drawing eyeliner, the liquid of the glue pen drawn is black and sticky. Except for the black line drawn on the eyeliner It has the effect of beautiful makeup and can also fix mink eyelashes, which brings you great convenience! Following will discuss how to do Winged Eyeliner for every eye shape with this magic Lash Glue Pen!
You can get Free sample from Our Amazon Shop before you take book order! Contact with WhatsApp +8615318782783 for the payment refund of this lash glue pen.

Despite what many an eye makeup tutorial says, there's no one way to achieve the perfect winged eyeliner. Since everyone's eyes are uniquely beautiful, your ideal winged eyeliner method and eyeliner products should be, too.
So how do you determine the best way to nail your cat eye? We've rounded up the best tips to apply winged eyeliner for every eye shape, so you can determine the best eyeliner product method for you (without needing a makeup artist's steady hand). Plus, we've thrown in a few super-simple and surprisingly easy universal hacks for all eye shapes you can use in a pinch.
Cat-eyes and winged tips are meant to be fierce and unique as the person who wears them, so above all, you have fun while figuring out which winged eyeliner look fits you best!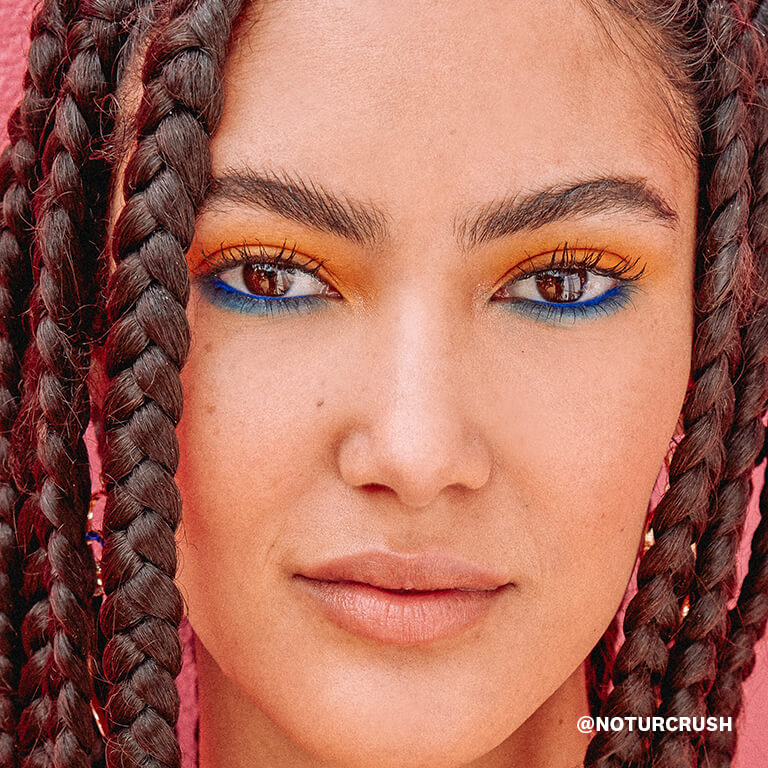 How to Do Winged Eyeliner for Upturned Eyes
An upturned eye shape is defined by the slight upturn at the outer corner of your lash line. The key to mastering your perfect winged eyeliner for this eye shape is to create an extra-graphic wing to draw attention to your eyes' natural feline flick.
For this eye look, try a gel liner (such as this user-friendly gel pencil from SMASHBOX) or a liquid liner to draw the outline of a scalene triangle (remember those from high school geometry?) on the outer corner of your eye, along your upper lash line. Then, extend one leg of the triangle down to your bottom lash line, filling in the resulting blank space with your liner to create your wing.
Finally, take your eyeliner game to the next level by lining your upper lash line all the way into the inner corner of your eye. But you don't have to stop there: extend the liner down to your tearduct, creating a tiny point for the ultimate feline cat-eye.
Feel free to play around with different colored eyeliner on your upper and lower lash lines, too, for a fun twist on this bold eye look.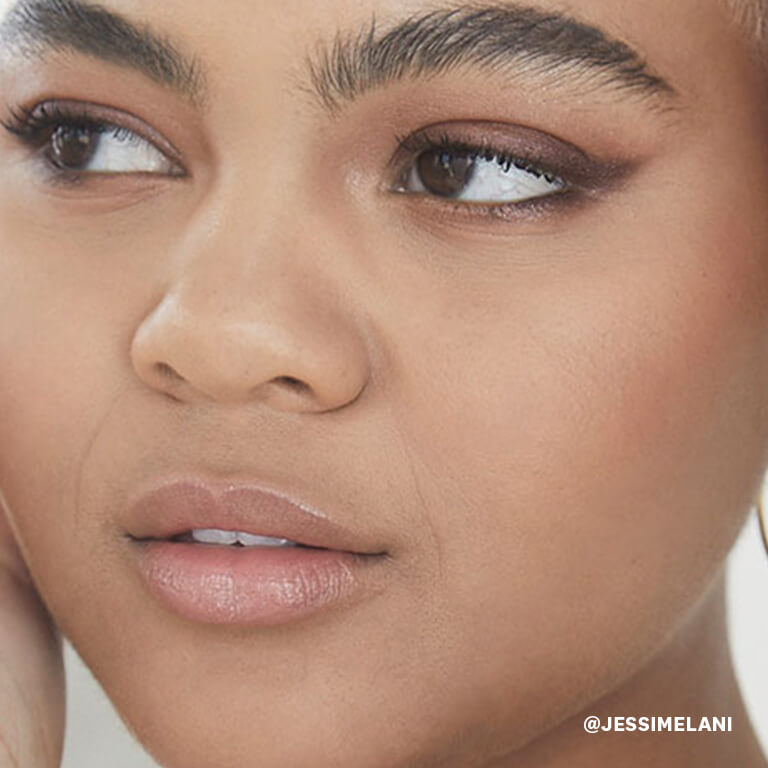 How to Do Winged Eyeliner for Downturned Eyes
The ideal winged eyeliner for downturned eyes should lengthen and lift up your lash line. To do this, look straight ahead and identify where the center of your eyelid is (it's usually around where your pupil rests when looking straight). Begin lining your line starting from the center of your lash line, moving outward towards the outer corner of your eye, with your eyes still open.
Then, extend the line upward to the outer edge of your brow (the further you extend, the bolder the look). Fill in the tapered wing to your desired thickness. While you can certainly line your bottom lash line and the inner corner of your eye to emphasize your eye's downturned shape, leaving these areas without eyeliner with create an elongated and lifted winged eyeliner look.
Hack #1: For an on-point wing that's practically impossible to smudge, use a pencil eyeliner like the MAC COSMETICS Pro Longwear Eye Liner. And of course, you can always use either a liquid concealer or a pencil concealer (whichever is easiest) to clean up any smudges and sharpen the lines on your eye look.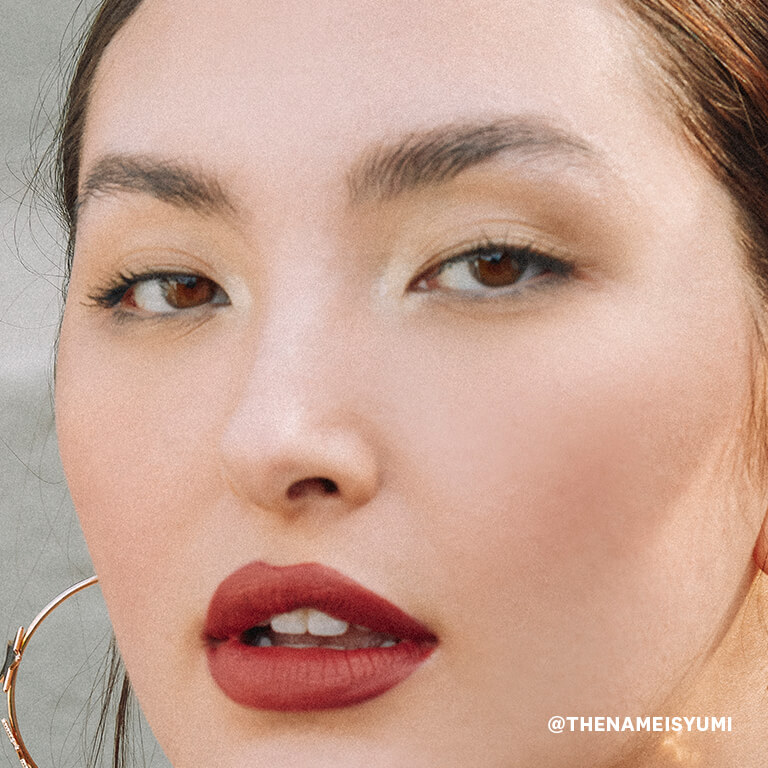 How to Do Winged Eyeliner for Monolid Eyes
If you have a small lid space, sometimes called a monolid, you can easily enhance the strong lines of your eye shape by lining your upper lash line with short, feathery strokes.
To build your winged eye look, being at the inner corner of your eye and work your way to the outer corner while keeping your eyes open. Once you reach the end of your upper lash line, taper the line outwards (towards the end of your eyebrow) and fill it in to form a sharp wing.
To finish off your eye look, start a new line at the outer edge of the lower lash line and connect it to the wing on your top lash line, filling in the shape as much as you like. We recommend a felt tip liquid eyeliner for this look, such as this MORPHE Felt-Tip Liquid Liner, to create dimension-building strokes. Top with a few swipes of mascara and a swipe of eyeshadow for an effortless winged eyeliner smoky eye.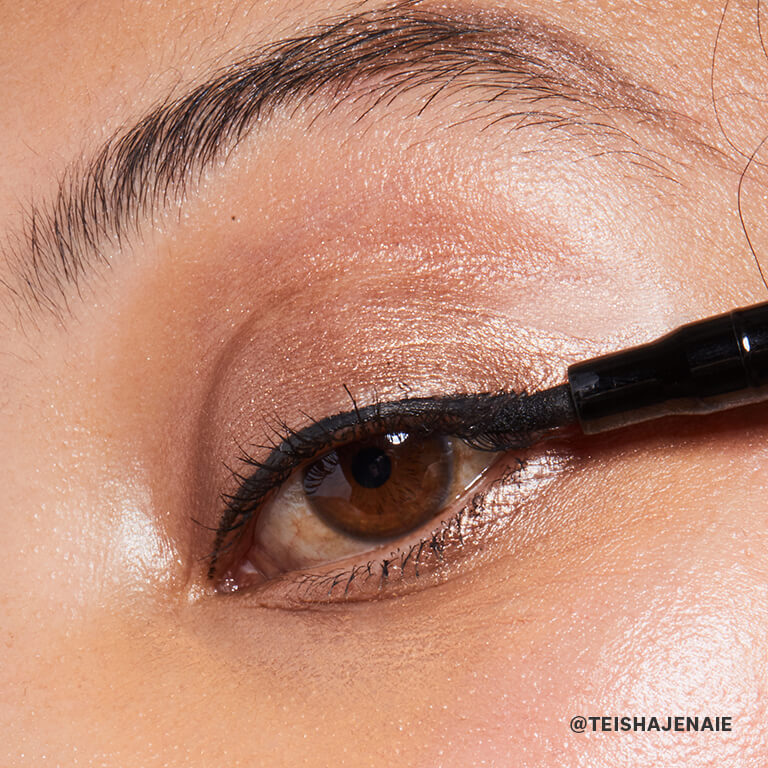 How to Do Winged Eyeliner for Round Eyes
Want to give your round eyes an extra-accentuating boost? Make your eyes pop by drawing a line close against your upper lash line, from the inner corner of your eye to the outer corner of your eye, angling slightly upward at the end of your lash line.
For a natural winged eyeliner look, you'll want to keep the wing tip short, stopping it right about where your natural crease ends. This will be just the right amount of feline flare to give you a stunning cat-eye look. Choose from a liquid liner, gel eyeliner, or eyeliner pencil, depending on your desired look, and you can even bring your liner into your waterline for an extra boost of boldness.
Hack #2: For a smudge-free, straight line, use the "connect-the-dots" method discussed in our guide here. It's a super fun and easy way to make applying eyeliner a breeze.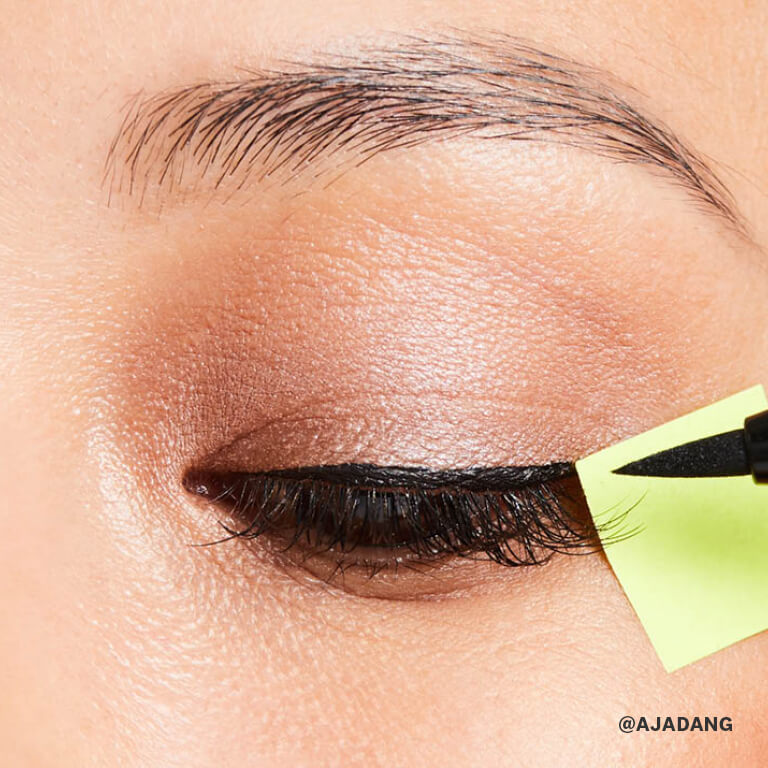 How to Do Winged Eyeliner for Almond Eyes
If you have an almond eye shape, there are a variety of different methods you can take for building your winged eyeliner look.
One method is the classic "outside-in" liner technique (discussed in detail in our guide here). Simply start by drawing a straight line from the upper outer corner of your eye to the center of your upper lash line, angling down as you go. Draw another line just underneath the wing on your outer corner to form a winged tip. Fill in the rest of the line across your eyelid, keeping your eyeliner as close to the lash line as possible.
Another option is the "inside out" trick (discussed here). To use this technique, begin your eyeliner at the center of your upper lash line, extending it out and up toward your eyebrow as you go. Then, angle another line from the point of your wing down and across your lashline, until it connects to create your winged tip.
Hack #3: For an ultra-precise line, use a piece of paper or tape to create a border on the outer corner of your eye. If you do decide to use tape, though, you'll want to make sure it isn't too sticky to avoid harming to your eyelids or pulling your eye area's sensitive skin. When in doubt, place it on the back of your hand, and lift and remove it a few times to dull the stickiness first.
11129
0
0
cookie-check
How To Do Winged Eyeliner for Every Eye Shape